La Belle Auberge
Explore the Wilds, Relax in Luxury
Welcome to La Belle Auberge, a grand Victorian B&B built in 1907, located on the beautiful gas-lit boulevard in the heart of Wellsboro, only minutes from the scenic Pennsylvania Grand Canyon and Rails to Trails for hiking and biking.
Things To Do
PA Grand Canyon
Often referred to as the Grand Canyon of Pennsylvania and the Pine Creek Gorge, the PA Canyon area stretches for over 45 miles with depths of nearly 1,500 feet. These breathtaking views and endless green hiking trails are a haven for sportsman, hikers, and outdoor lovers. The Pine Creek Gorge is a scenic adventure offering rafting, canoeing, and kayaking in early spring and summer.
Pine Creek Rail Trail
USA Today cites the Pine Creek Rail Trail as one of the 10 great places to take a bike tour in the world. The 61 mile journey in the base of the gorge offers easy pedaling with its gentle grade and spectacular views along Pine Creek. The trail is enjoyed all four seasons for biking, running, hiking, cross-country skiing, snow shoeing, and more. Visitors enjoy the waterfalls, small picturesque villages, and great wild life and bird watching, including local nesting bald eagles.
Historic Gas-lit Downtown
Wellsboro is a cultural jewel on PA's route 6. It is like stepping back in time with its gas-lit boulevards, safe small town charm, and the town square "The Green" with its famous Wynken, Blynken, and Nod statue. Wellsboro offers wonderful local Hamilton-gibson theater productions, world class classical Endless Mountain Music Festival, a beautiful full service spa, and downtown shopping and dinning. Wellsboro, the heart of north central Pennsylvania Wilds, was called a "bona fide 21st century eden" by National Geographic.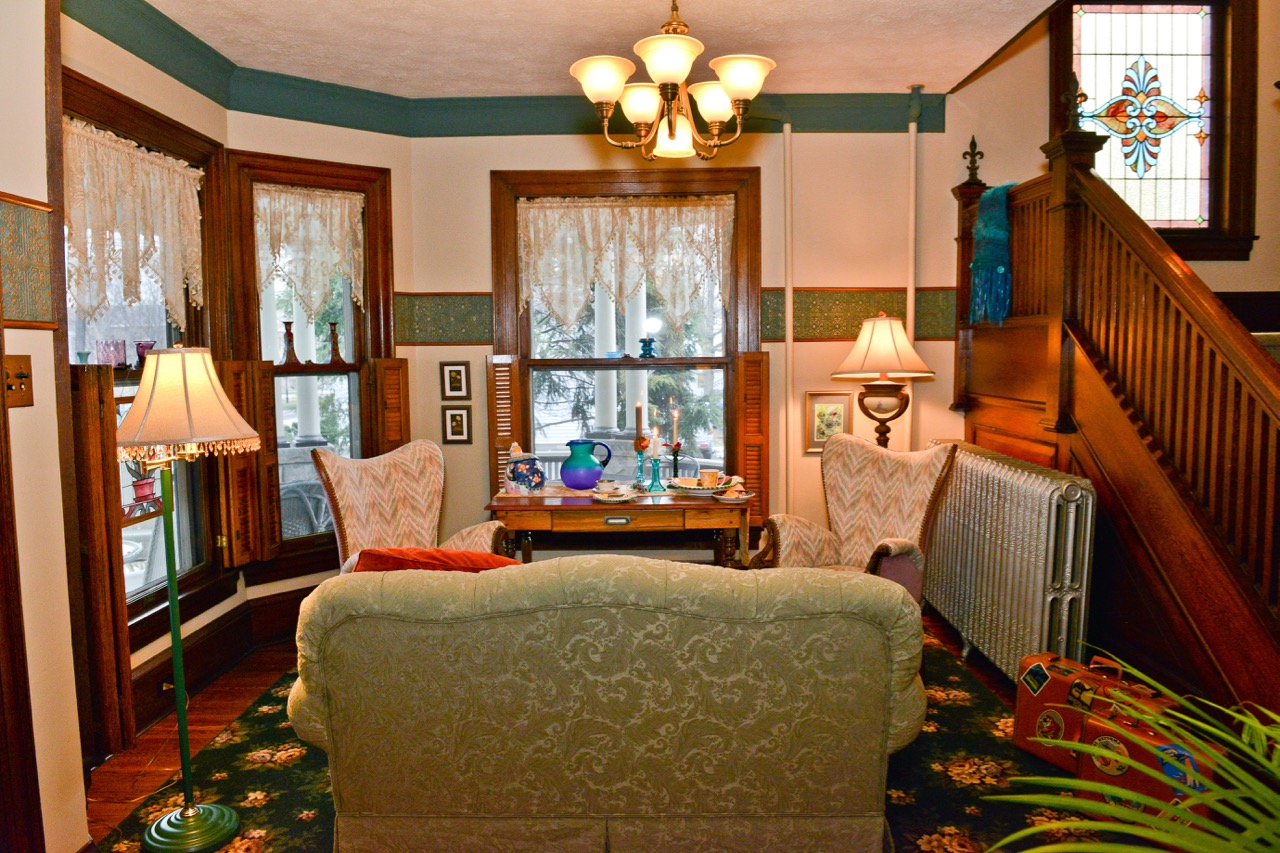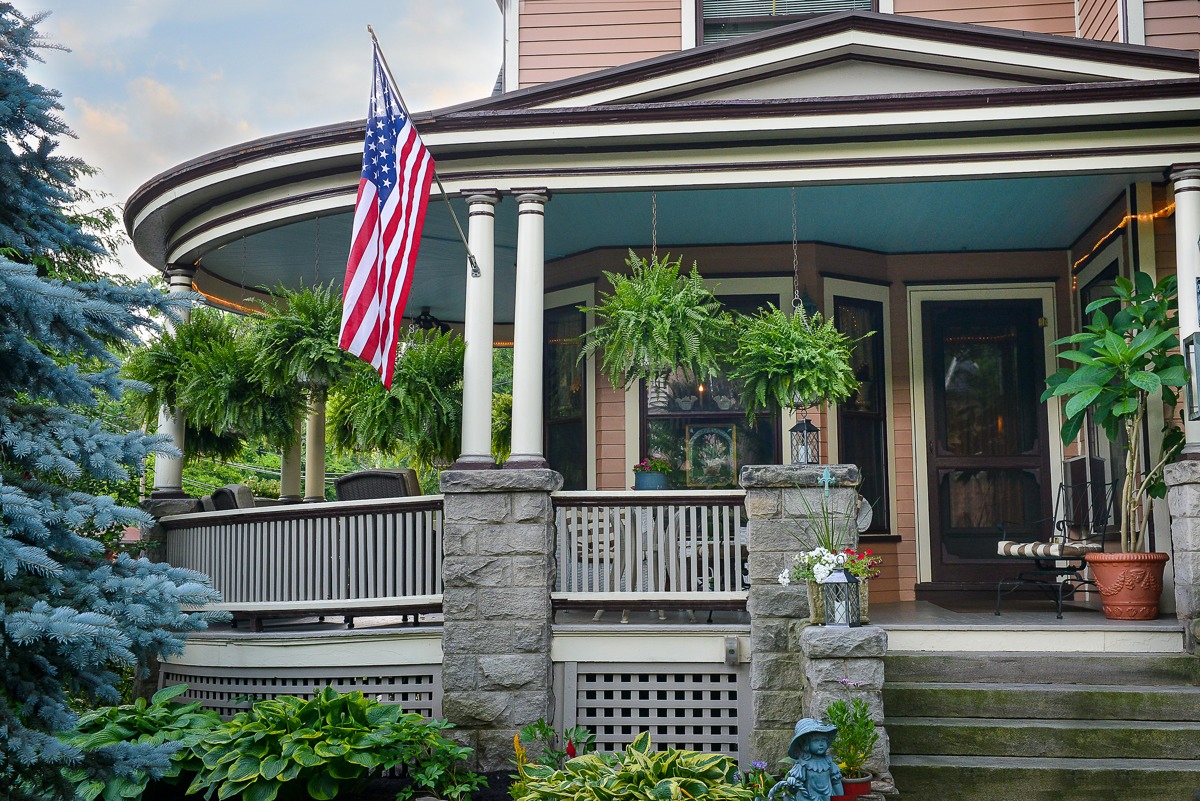 Enjoy the gas lights of Main Street in your spacious and luxurious room.
Enter a French garden awashed in bright sunshine from your lace dressed bay window and sunny, private porch.
Enjoy the fireplace from your King size bed amidst the ambiance of the French Countryside of Provence.
Enjoy the fresh air of Pyrenees on your private porch.
Breakfast
Enjoy a hot breakfast at your private table or on the wrap around porch surrounded by our garden
instantly receive a 10% discount on lodging when you book with us.
Add Sunday to any Friday and Saturday stay
and unlock our "Lazy Sunday Promo" to receive a 15% discount on lodging.
In-House Massage
Make it a romantic getaway and relax in our luxurious couples massage room.
It's just down the hall and available upon request.
75 Minute massage $95 / person
Your innkeepers, Laura Lee and her husband Jesse, are young entrepreneurs that are blessed to do what they love. You can also find them at their sister business, Emerge Healing Arts & Spa & Aveda Salon, founded in 2012 and just two blocks away, where they both serve a full time clientele as massage therapists.
La Belle has a rich family history. Our grandma Nelle created La Belle as her third inn in 2002. Her passion as an international flight attendant inspired our French theme and decor. Much of Laura Lee's life she spent with an apron around her waists and knee deep helping her grandmother in their innkeeper endeavors. In 2007, Laura Lee managed La Belle Auberge where she also started her massage practice. Past guests may remember a younger version of her daughter, Sophia, drawing portraits of the guests during breakfast. In 2013 Laura Lee & Jesse got married on the stairs of La Belle. In 2016 an amazing opportunity to restore La Belle as a bed and breakfast and purchase it back into the family arrived.
As long time locals, with a passion and great love for the outdoors, they can give you the best scoop on what to do and where to go. Their greatest amenity at La Belle is their skills as massage therapists. Relaxation happens on a totally different level when you make time for a couples massage! Who wouldn't want to unwind with their honey after a long day adventuring in the PA Wilds.
"Sharing our home with La Belle's long history of cherished guests and ever growing family of new guests is a great joy.
Don't worry, Grandma Nelle has shared all her secrets. We and our wonderful staff are delighted to carry on La Belle's rich history as your innkeepers."
Our Home Is Your Home,
The Robinsons
Emerge Healing Arts & Spa